Currently sign-in to online sync with Facebook account doesn't work and Facebook doesn't respond to resolve this problem. If you encounter this issue, please change your account to Google account by completing this online form.
Complete the online form
First, sign in with your Google account you want to change to so that we can verify your Google account. Then enter your Facebook user ID number along with its screenshot.
Get your Facebook user ID number
You can check your Facebook user ID number on your Facebook app.
Open Facebook app
Tap ☰ button in the upper bar
Tap settings button in the Menu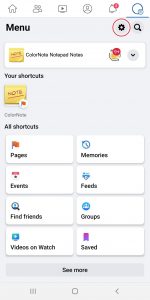 4. Choose 'Apps and websites' in Your information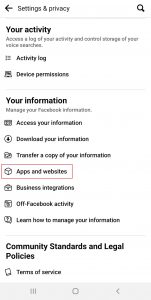 5. Choose 'ColorNote Notepad Notes' app.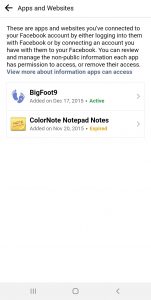 6. You can find your User ID number at the bottom.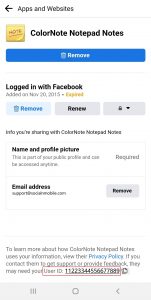 If you submit the online form, we will link your Google account sign-in to your ColorNote account and send you a confirmation mail.